Meet The Family...
The Bleeding Obvious has performed and toured with some fantastic artists - find out more about the family who have been around the country.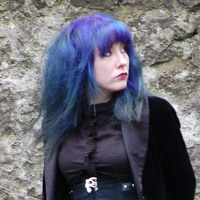 Geneviève Walsh
Poet, compere, workshop facilitator, foul-mouthed queer feminist and Aldi Rosé Socialist based in West Yorkshire. They are the founder/host/curator of Spoken Weird and its sister nights Spoken Queered and Weird of Mouth (Halifax), and co-host of Stirred (Manchester). Their debut collection The Dance of a Thousand Losers was published by Flapjack Press in 2017, who will be releasing Walsh's second collection Vitriol Works in 2020. They are currently touring a work in progress version of their new show, A Place in the Shade.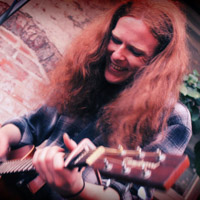 Sproose Moose
Sproose Moose is the moniker of singer-songwriter Jamie Hayward. Born in Luton & living in Bridlington, Sproose Moose mixes elements of folk, punk & indie rock in a rambunctious fashion.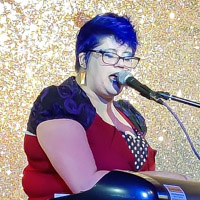 Alice Nicholls
A genderflux, bisexual woman-person with a lot of instruments, even more sarcasm and a dark sense of humour. With a ditty prepared for almost every topical issue facing the modern world, Alice performs poetical, political, personal and profound songs that tell of a life alternatively and joyously lived. Alice's awesome EP of protest songs, KIND QUIET RIOTS, is available now.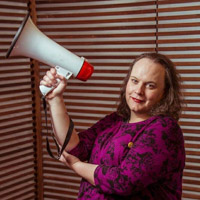 AJ McKenna
AJ McKenna has performed poems while stripping, handcuffing herself to a microphone stand and having dry rice thrown at her in an attempt to understand the true meaning of love, though not, as yet, all at the same time. She is the author of A Lady of a Certain Rage, names and songs of women, Incidents of Trespass and, most recently, England is the Enemy, and podcasts extremely sporadically at Apocalypse Follies.
Originally meant to be joining the Spring 2020 tour which the COVID pandemic put paid to, AJ finally supported on the Newcastle leg of the Spring 2022 tour.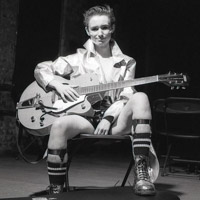 Ding Frisby
An intergalactic, guitar-wielding drag thing, writing comedy songs about his niche queer thoughts (so you don't have to!). Crash landed in Huddersfield, Ding's gigged across the nation, from the Edinburgh Fringe to the grand final of Europe's biggest drag king contest, Man Up!. They're always ready to get punky, prideful and become the queer-coded alien villain of your dreams.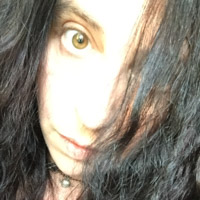 The Thinking Chimp
The Thinking Chimp (aka Helen Rhodes) describes herself as "Dark, surreal, strange, insightful, edgy, with a squeeze of sarcasm and a large squirt of humour. I write about human beings, the odd and the oooh. I write about life, real and unreal. I write about death, experientially and theoretically. Sometimes things rhyme, even when they're not meant to at the time." Nowadays making mandala art for her Etsy shop.
The Thinking Chimp toured with me and Genevieve Walsh on the Rainbow Heart Tour 2017-2018 and collaborated on the first two albums, most notably on the track 'Nervous' from Rainbow Heart.